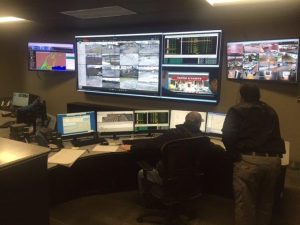 On April 14, 1937, the Joe Wheeler Electric Membership Cooperative was formed. Bylaws were adopted and W.T. Price was elected president. Preparation was soon made for a power contract between the Tennessee Valley Authority and the cooperative.
Operations began on October 1, 1937 with only 190 miles of line and 900 members. Total consumption was less than 5 million kilowatt-hours and the cost per kilowatt-hour was $0.225 (residential only).
Our greatest growth occurred between 1947 and 1952. With the end of World War II and the availability of many new electrical appliances, the demand for electrical service grew tremendously. Over 1500 miles of electrical lines were installed in JWEMC's membership area during those four years and membership rose from 3,469 to 10,490.
Project specifics
Application – Operations and dispatch center
Display critical info from HD, SD and IP sources.
Location –Trinity, Al
Live Wall Solution
Live Wall Media 3×2 video wall using 55" Ultra Thin Bezel LED displays
Video wall size 144" x 54"
Video wall resolution 5760 x 2,160 pixels
VP 40 Video Processor with 8 HD video outputs, 16 HD inputs and wall control software
Installation and training