Features
Up to 5 input or output cards
Intel i5Quad Core Processor
8GB RAM
Dual 750GB Hard Drives
Dual Gigabit Ethernet ports
DVD Burner/Player
High efficiency 500W Power Supply
Wireless Keyboard/Optical Mouse
Windows 7 Professional 64 bit
Live Wall Media Wall Control Software
36 month Live Wall warranty
The Live Wall Media Video PC is a high performance computer that renders vivid images at blazing speed across our high-resolution displays. Resolutions of up to 2560 x 1600 per monitor can be displayed for an exceptional multi-display user experience. A wide variety displays (purchased separately) are supported including LCD displays, DLP cubes or projectors.
The Live Wall Video PC is ideal for delivering information from within the PC or from the Internet or local network, be it Windows applications, graphical images or motion video. As many windows as desired can be opened and displayed, each window can be scaled to any size and span any number of displays. Included with the Video PC is our Display Manager software which allows you to get the most out of your system. Display Manager is designed to increase productivity and unlock the full potential of your multiple display system.
The Live Video PC is perfect to drive our video walls when limited video inputs are required.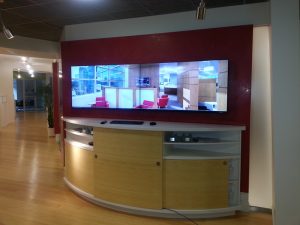 Wall Control Software
Live Wall Control is a Windows® application program enabling easy content management, configuration and setup of video walls and multi monitor systems. It provides operators control over all connected video or IP sources and offers collaboration, distribution and interaction of information in control rooms and presentation spaces in an efficient manner. The software is based on an intuitive user interface which reduces reaction times and makes the operation of video wall systems more efficient.