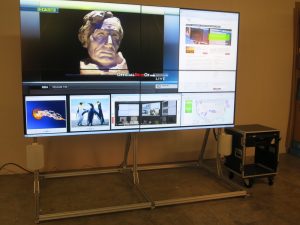 No longer do video walls need to be permanently mounted in place. Now have the freedom to display your information anywhere you choose. A single video wall can be used in multiple locations as the need arises, greatly increasing the value of your investment. Live Wall Media's portable video wall assembles in about 20 minutes including mounting the LCD's. Disassembled, the Portable Video Wall fits in up to 5 travel cases, making movement and storage of the Portable Video Wall easy.
Live Wall Media's Portable Video Walls combine our powerful video processors and bright LCD displays into truly portable display walls. Our portable mounts can be customized to fit your particular needs, each design is certified by our mechanical engineers for strength and stability. Each Portable Video Wall is completely assembled and tested in our facility prior to shipment to ensure there won't be any problems or surprises when your wall arrives.
The Live Wall Portable Video Wall is the ideal solution for mobile command posts, tradeshows, events in temporary facilities and in situations when moving it to different locations within the same facility is necessary. Control room video walls also need to be portable in some situations, making this an ideal solution.
Portable Mount Features
All aluminum construction with a clear anodized finish for durability and strength
Each mount is engineered for strength and stability
Mount easily breaks down into 5 pieces and stores in its own travel case
Mount and monitors fit into 3 or 4 travel cases depending on the number of LCD's
Mount is assembled and adjusted using only an Allen wrench
Can accommodate up to 3 rows of LCD's in 4 columns
LCD's attach individually and easily to the portable mount without the use of tools
Will accommodate any of our Live Wall Media LCD panels
Made in the USA
Travel Case Features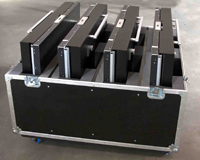 Portable Video Wall Travel Case
Heavy duty construction, specifically built for our portable mount and LCD's
Heavy duty casters for easy maneuverability
Heavy duty locks and hand grips
Case interiors molded to hold specific pieces
Rack Mount Travel Case

Portable Video Wall Rack Mount Travel Case
Heavy duty construction, specifically built for our portable mount and LCD's
Special rack case for video processor and electronics
Optional desktop attachment
Shock mounted
Holds video processor, video players, cable/satellite receivers, audio amp, audio mixer